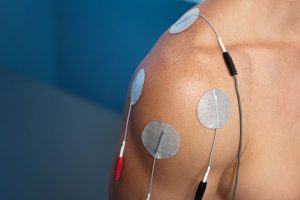 Don't let shoulder pain sideline your life. Our team at The Injury Center, LLC, located in Brooklyn, Ohio, specializes in providing comprehensive shoulder pain treatment. Tony Wyrwas, DC, MS, DACBSP, DACRB, is a seasoned chiropractor with expertise in sports medicine, dedicated to restoring your shoulder's health and function, irrespective of the cause of your pain. We're here to help you return to the activities you love with our high-quality chiropractic care.
Contact Us   Request an Appointment Online
Comprehensive Shoulder Pain Treatment Options
We offer an array of specialized shoulder pain treatments and post-surgery care if you're recovering from a shoulder operation. Our care plans often incorporate advanced treatments, such as cold laser therapy, to shorten your recovery time and enhance your range of motion. Our treatment options include the following:
Electric muscle stimulation
Ultrasound therapy
Physical therapy
Therapeutic massage
Common Shoulder Pain Questions & Answers
Why am I suffering from shoulder pain?
Shoulder pain often originates from rotator cuff injuries. Your rotator cuff, vital for enabling circular shoulder joint motion, can become inflamed or pinched as they move amidst bones and muscles.
What else could be causing my shoulder pain?
Spinal misalignment
Arthritis
Abnormal movement patterns
Athletic injuries
Automobile accidents
Chronic shoulder pain may signal a problem with your AC joint or labrum, especially if you've previously suffered a sports injury or fall.
When should I seek professional help for shoulder pain?
If you experience persistent shoulder pain for several weeks, it's time to consult our shoulder pain specialist at The Injury Center, LLC. Critical signs that you should seek an expert opinion include:
Shoulder pain that progressively worsens
Shoulder pain that radiates into the arm, jaw, or chest
Difficulty carrying objects
Problems lifting your arm over your head
Swelling or bruising around the shoulder
Snapping or clicking sound when you move your shoulder
How can The Injury Center, LLC help relieve my shoulder pain?
We go beyond merely managing your pain – we address its root cause. At The Injury Center, LLC, we leverage gentle chiropractic adjustments to correct shoulder joint problems, providing long-term pain relief without reliance on medication.
Can chiropractic care alleviate my shoulder pain?
Absolutely! Chiropractic treatments can speed up your healing following an injury or surgery, correct misalignments in your neck or spine that might cause stubborn shoulder pain, and prevent future injuries.
Experience The Difference With The Injury Center, LLC
Shoulder pain can seriously disrupt your life, but you don't have to live with it. At The Injury Center, LLC, we understand that each individual's pain is unique, so we provide personalized treatment plans tailored to your needs. We carry out comprehensive evaluations, including reviewing your complete medical history and using advanced imaging techniques to diagnose the cause of your shoulder pain.
Don't let shoulder pain control your life. Contact us today and take the first step towards a life free from shoulder pain. At The Injury Center, LLC, we don't just treat symptoms – we treat you.
Contact Us   Request an Appointment Online
Medical Request Appointment Form