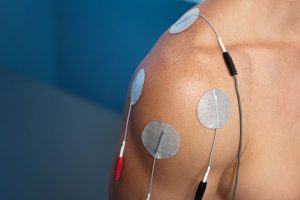 Shoulder pain can keep you on the sidelines, but chiropractic care gets you back in action. If you're struggling with stubborn shoulder pain, The Injury Center, LLC in Brooklyn, Ohio, can help. Tony Wyrwas, DC, MS, DACBSP, DACRB, is an experienced chiropractor specializing in sports medicine. He can restore healthy shoulder function no matter what's causing your shoulder pain. With top-quality chiropractic care, you can return to the activities you love. Call the office today or schedule an appointment online.
Shoulder Pain FAQ
What causes shoulder pain?
Rotator cuff injuries are the most common cause of shoulder pain. Your rotator cuff is part of your shoulder joint that allows for circular motion. The tendons in your rotator cuff pass between bones and muscles, so these tendons often become pinched or inflamed.
Other causes of shoulder pain can include:
Spinal misalignment
Arthritis
Abnormal patterns of movement
Athletic injuries
Automobile accidents
If you're struggling with chronic shoulder pain, you might also have a problem with your AC joint or labrum. These structures in the shoulder are often injured after a sports injury or a fall. As you get older, your shoulder may be more vulnerable to damage. The aging process can also weaken the tissues in your shoulder.
What are the symptoms of shoulder pain?
Many people feel a bit sore now and then. But if your shoulder has been hurting for several weeks, it's time to see Dr. Wyrwas at The Injury Center, LLC. Other signs that you need an expert opinion include the following:
Shoulder pain that gets worse over time
Shoulder pain that spreads into the arm, jaw, or chest
Difficulty carrying objects
Trouble lifting your arm over your head
Swelling or bruising around the shoulder
Snapping or clicking sound when you move your shoulder
Your care program is designed to relieve pain and promote healthy joint function. Dr. Wyrwas performs a complete evaluation to get to the root of your shoulder pain. He takes your complete medical history or uses advanced imaging techniques to assess your joint function. Next, he creates a customized treatment plan.
What treatments can help relieve shoulder pain?
Many doctors rely on pain medication to treat shoulder pain. But pain relievers only mask the problem. Pain medication won't resolve the issue if you have an untreated injury or joint problem.
At The Injury Center, LLC, Dr. Wyrwas uses gentle chiropractic adjustments to correct problems with your shoulder joint. These treatments can offer long-term pain relief without the need for pharmaceuticals.
Can chiropractic medicine help my shoulder pain?
Chiropractic treatments can speed up the healing process after an injury or surgery. They can also correct misalignment in your neck or spine. Spinal issues are often responsible for stubborn shoulder pain. Correcting misalignments can relieve your pain and promote healing.
Misalignments can increase your risk of future injury. But treating these structural issues helps keep your shoulder working well for years. Treating alignment problems can also speed up healing after an auto accident or workplace injury.
If you're recovering from shoulder surgery, Dr. Wyrwas also offers specialized post-surgical care. Post-surgery care plans often include advanced treatments like cold laser therapy. These evidence-based treatments can shorten your recovery and boost your range of motion.
Other available treatments include:
Electric muscle stimulation
Ultrasound therapy
Physical therapy
Therapeutic massage
Are you struggling with shoulder pain? Let Dr. Wyrwas help. Call The Injury Center, LLC today at (216) 830-2225 or schedule an appointment online.