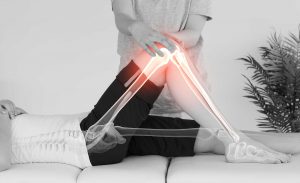 Dealing with a knee injury can feel like you're constantly on the sidelines. But with our specialized chiropractic care, you can bounce back faster than you ever thought possible. At The Injury Center, LLC, located in Brooklyn, Ohio, we provide the solution you need to overcome your knee injury. Tony Wyrwas, DC, MS, DACBSP, DACRB, is a seasoned chiropractor specializing in sports medicine. With a track record of helping patients navigate pain and speed up healing, Dr. Wyrwas provides treatments grounded in the latest scientific evidence for safety and efficacy.
Contact Us   Request an Appointment Online
Knee Injury FAQ
Can't Figure Out What's Causing Your Knee Pain? We're Here to Help
From sports accidents to sudden injuries, knee injuries can manifest in numerous ways, often without a clear explanation. If you've been experiencing any of these symptoms, it's time to give us a call:
Joint stiffness
Swelling
Pain when standing or walking
Pain that intensifies as the day progresses
Knee injuries can worsen if left untreated. Even if your pain ebbs and flows, don't overlook it. Get a diagnosis promptly for your knee injury to maximize your chances for a complete recovery.
Curious about What Causes Knee Injuries?
Knee injuries are a common risk for athletes due to abrupt changes in direction during sports. Intense daily exercise or joint overuse can make you susceptible to knee injuries. The most affected areas are usually the ligaments within the joint, including:
The posterior cruciate ligament (PCL)
The anterior cruciate ligament (ACL)
The medial collateral ligament (MCL)
Spraining or straining these ligaments can be all too easy during daily activities. At the same time, severe accidents can lead to complete ligament tears, requiring surgery for repair.
Wondering Which Treatments Can Help with Knee Injuries?
The Injury Center, LLC can assist if you're dealing with a minor knee injury or recovering from a major surgery. Dr. Wyrwas excels in pre- and post-surgical treatments designed to stimulate your body's natural healing processes and improve joint function.
Can Chiropractic Medicine Provide the Knee Pain Relief You Need?
At The Injury Center, LLC, we're firm believers in the power of chiropractic care to not just manage but resolve knee pain. For minor injuries, our treatments could help you avoid surgery. Dr. Wyrwas offers manual adjustments to realign your bones, muscles, and ligaments alongside cutting-edge treatments like cold laser therapy and electrical muscle stimulation to enhance your body's healing abilities. With our physical therapy and massage services, you'll be back on your feet quickly.
Your Personalized Sports Training Plan
For athletes, Dr. Wyrwas is your go-to source for creating a tailored sports training plan. As a board-certified sports medicine chiropractor, Dr. Wyrwas can help restore your physical function and get you back in the game faster. Working with a team of top-notch orthopedic surgeons, he's dedicated to ensuring you receive the best possible outcome.
Ready to Put Your Knee Pain Behind You?
Life's too short to live in constant discomfort. Don't let your knee pain get the better of you. Contact The Injury Center, LLC today or schedule an appointment online. Your journey towards a pain-free life starts here!
Contact Us   Request an Appointment Online
Medical Request Appointment Form