Tony Wyrwas, DC, MS, DACBSP, DACRB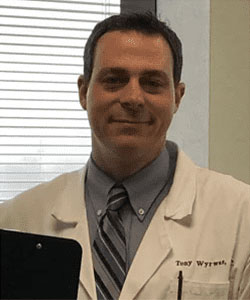 Sports Chiropractor & Physical Rehabilitation located in Brooklyn, OH
At The Injury Center, LLC in Brooklyn, Ohio, patients can get help for a wide range of conditions with chiropractic care. The practice is known for its advanced care and state of the art rehabilitation techniques. Patients can work with an athletic trainer, a physical therapist, an exercise physiologist, and a licensed massage practitioner. The Injury Center, LLC team works together to provide each patient with comprehensive treatment.
Tony Wyrwas, DC, MS, DACBSP, DACRB, specializes in sports medicine and offers customized care plans to patients at all fitness levels. He provides each patient with one-on-one, personalized attention throughout the treatment process, and offers manual adjustments, therapeutic exercises, sports training, and much more.
The Injury Center, LLC team enjoys getting to know patients. They understand that each person's body is unique. That's why they take their time during office appointments and diagnostic tests. They ensure that patients have the opportunity to share their questions, concerns, and preferences.
The staff then work together to provide patients with the care they need to improve their wellness. Patients who are dealing with severe injuries or recovering from surgery trust the specialized care The Injury Center, LLC offers. The practice is proud to offer intensive treatments like cold laser therapy to help speed up the healing process and promote tissue growth.
No matter what health concerns bring patients through their doors, The Injury Center, LLC provides top-notch care. They rely on evidence-based treatments to deliver proven results to patients struggling with injuries or chronic pain. If you're tired of living in pain, let The Injury Center, LLC help. Call the office today or schedule an appointment online.