Regain Your Strength with Expert ACL Rehabilitation
Has an ACL injury disrupted your daily life? The Injury Center, based in Brooklyn, Ohio, offers top-tier ACL (Anterior Cruciate Ligament) rehab to help you regain strength and mobility. Led by the esteemed Dr. Tony Wyrwas, DC, MS, DACBSP, DACRB, our team provides expert treatment for ACL injuries, including comprehensive rehab after ACL surgery and rehab for partial ACL tears. Experience personalized, effective care right here in Brooklyn, OH.
ACL Injury Rehab
Dealing with an ACL injury? Our experts will tailor a rehab plan to your specific needs. With cutting-edge therapies, we aim to help you recover quicker and prevent future injuries.
Partial ACL Tear Rehab
Don't let a partial ACL tear hold you back. We will evaluate your injury and devise a rehab program to aid healing, minimize pain, and fortify your knee for maximum performance.
Post-ACL Surgery Rehab
Accelerate your post-surgery recovery with our personalized rehab plan, designed to enhance your stability, mobility, and strength, enabling you to resume your daily routine quickly.
Dr. Tony Wyrwas, DC, MS, DACBSP, DACRB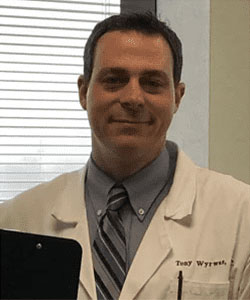 Dr. Tony Wyrwas, a distinguished sports chiropractor and physical rehab specialist, guides the team at The Injury Center in Brooklyn, Ohio. With a strong emphasis on sports medicine, Dr. Wyrwas delivers personalized treatment plans for patients of all fitness levels. Trust Dr. Wyrwas's expertise and science-based approach to ensure a speedy and effective recovery.
Why The Injury Center Stands Out
Individualized Care: We take the time to understand your unique needs and objectives, ensuring you receive the most beneficial ACL rehab program tailored to your situation.
Professional Expertise: Our specialists are certified in contemporary rehabilitation techniques. Rest assured. You're in capable hands with us.
Modern Facilities: Our clean, state-of-the-art facility in Brooklyn, Ohio, has cutting-edge technology and equipment to support your recovery journey.
Schedule Your Appointment Today!
Don't let an ACL injury sideline you. Embark on your path to recovery with The Injury Center. Contact us today to book your appointment and take the first step toward a stronger, healthier future—the Injury Center – Your Premier Choice for ACL Rehabilitation in Brooklyn, Ohio.