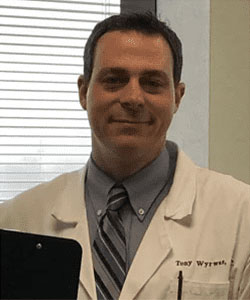 Embrace the transformation. At The Injury Center, we redefine what it means to experience top-tier physical therapy services in Cleveland. We're not just about healing; we're about enriching your quality of life. You're not a number but a valued individual with unique health needs. We promise to support you every step of your journey.

   
Your Guide to Wellness with Dr. Tony Wyrwas
Meet the master behind your wellness journey. Dr. Tony Wyrwas, your guide, brings his expertise in sports medicine, deep commitment, and innovative techniques to help restore your health. You'll never feel alone. Experience one-on-one, personalized care that gives you the strength and confidence to conquer your health challenges.
Advanced Treatment Options: Your Roadmap to Recovery
Experience the power of choice. We offer diverse evidence-based treatments, from spinal and extremity joint manipulation to cold laser therapy. You deserve the best care, and we have tailored solutions to your specific health needs. Step into our state-of-the-art facility and let our wide range of services be your roadmap to recovery.
Our Assurance: We're with You, Always
Feel secure in our hands. We accept most insurance plans, including auto accidents, worker's compensation, and personal injury cases. Our commitment to your health extends beyond our treatment rooms. We work with your insurance provider so you can focus on what truly matters – your recovery.
Transform Your Life with Our Physical Therapy Services
Your wellness journey starts here. Isn't it time you chose health? Say goodbye to pain and reclaim your freedom with our specialized physical therapy services. With a team of experienced professionals and many treatment options, we're the trusted choice for physical therapy in Cleveland.
Discover The Injury Center Today
Take the first step. Ready to embark on your health journey with us? Connect with us at (216) 830-2225 or book an appointment online to experience our bespoke physical therapy services.